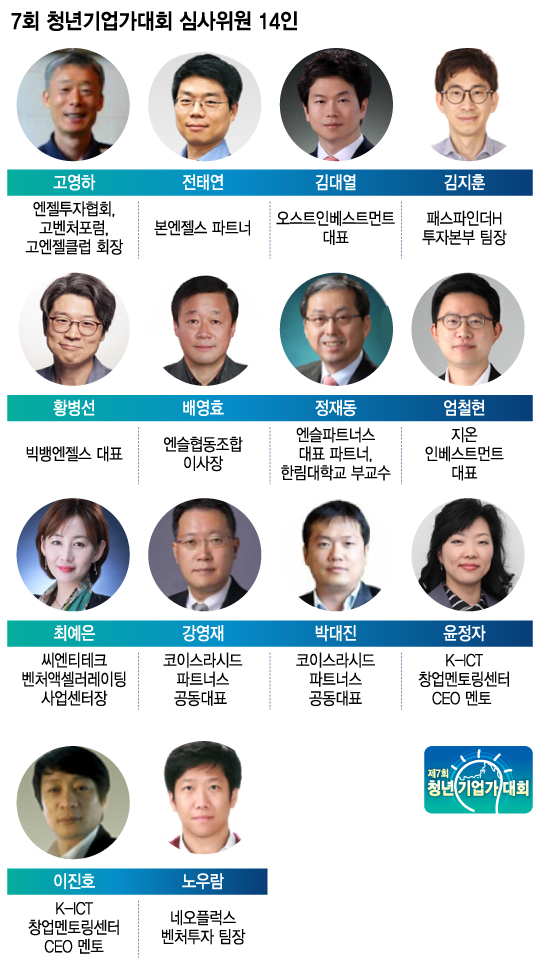 KSP's managing partners, Yeongjae Kang and David Park will participate in the 7th Young Entrepreneurs Competition as judges. Looking forward to meeting cool and awesome startups!
2017년 최고의 스타트업을 발굴하는 제7회 청년기업가대회(머니투데이 주관)에 국내 최고 벤처투자가 및 액셀러레이터 14명이 심사위원으로 참여합니다.
창업국가 이스라엘의 성공 노하우를 전하는 한-이스라엘 합작 액셀러레이터인 코이스라시드파트너스(강영재·박대진 공동대표)도 공동주최기관과 심사위원단으로 본 대회에 함께 합니다. 강 대표는 프린스턴대학 경제학 박사 출신의 경제 전문가로 전 하이트진로 음료담당 대표를 역임했고, 박 대표는 이스라엘 현지 고등학교, 히브리대학교, 텔아비브 대학원을 나온 국내 최고의 이스라엘 전문가입니다.

7회 청년기업가대회
◇주최: 한국기업가정신재단, 패스파인더H, 엔슬협동조합, 씨엔티테크, 코이스라시드파트너스(KSP)
◇주관: 머니투데이
◇일정: 예산마감 9월 3일, 본선 9월말(자세한 일정 추후 공지), 결선 10월 19일
◇신청: 한국기업가정신재단(efkorea) 홈페이지
◇문의: 머니투데이